La Manga Club Resort
La Manga Club is a luxury resort, set among hillsides close to the coast, with first-class professional sports facilities and plenty of wheelchair-accessible shops, bars, restaurants. The resort has a local supermarket and offers a range of services, including pharmacy and a local English speaking doctor.  
Also at the La Manga Club resort, there is a five-star hotel, three golf courses, a 28-court tennis centre, eight FIFA-standard football pitches and a state of the art Wellness Centre. The local village of Los Belones provides additional services, shopping bars and restaurants. There is a large Eurospar supermarket at Cabo de Palos, about 10 km from the villa.
For more information about the La Manga Club Resort, please visit the website: https://lamangaclub.com/en
Cartagena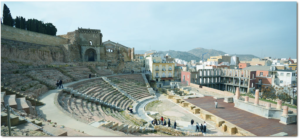 Cartagena is an ancient city, steeped in Roman and naval history, less than 20 miles from the villa.  The harbour area has been redeveloped and has good accessibility for wheelchairs and there are plenty of bars, shops and restaurants in the city. The ancient Roman amphitheatre is well worth a visit as well as the thousand-year-old tree in the heart of the old city.
There's plenty of information about things to do in Cartagena on the city's tourism website https://www.murciaturistica.es/en/cartagena/
La Manga del Mar Menor
The Mar Menor is a enclosed sea lagoon less than 5 miles from the villa. The area offers water sports, boating, level promenades, accessible beaches, bars hotels and and restaurants. For more information about La Manga Del Mar Menor, visit its tourism website at: https://www.murciaturistica.es/en/la_manga/